This week, we have given you lots of advices regarding holiday fashion. Now, it's time to be a little more creative and a little less serious by talking about nail arts! Nail arts, just by hearing them, seem so fun and they actually are. There's this certain kind of giddiness and childishness upon seeing that cutie art painted on your nail.
So this holiday season, spread the Christmas spirit through nail arts! Here are examples of the cutest nail arts that you could wear this holiday.
Snow on blue. Looking for an easy and attractive nail art? Well, this one is for you. Blue is one of the best colors this Christmas and it is the most perfect alternative to red if you think red is too usual. Just paint your nails with blue nail polish and top it off with white nail polish like a French tip, but dripping like snow.
Silver shimmer. Glittery dress match with silver nail polish is always elegant and chic. But this Christmas, take silver to a higher level by making a nail art that's perfect for this season. Paint your nails with silver nail polish, top it off with French tip, then put tiny circles on it as if you are drawing snow balls. The snow man on one nail is the highlight of this nail art. So this one is surely an eye-catcher!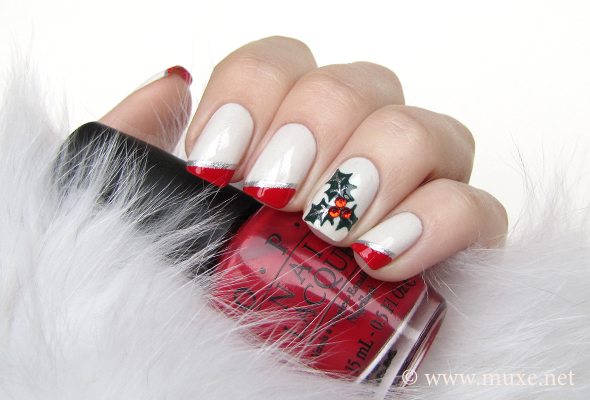 Mistletoe on art. Waiting for that one guy who will give you a kiss under a mistletoe? Mistletoes are so Christmas-sy and lovely. So wear it on your nails to feel the lovely Christmas spirit. Choose your base color – blue, red, gold, or silver. And then create a mistletoe art on your nails. This requires a lot of details and hand skills but it's definitely worth the hardwork. It's just too cute too resist.
Tiny Christmas trees. Since Christmas is just around the corner, it's time to make cute holiday nail arts. This nail art is definitely too cute and too perfect for Christmas. Ever imagined wearing a Christmas tree? Well, make it a little cuter by putting the Christmas trees on your nails. This will make your Christmas more fun and cheery!
Cutie candy canes. Who says candy canes can only be just eaten? They can also be painted on your nails. Well, not literally of course. Show off your sweet tooth side with this nail art that is also perfect for Christmas. Attend your family gatherings and clique Christmas parties with this nail art for a more perked up and playful night.
Red and white hats. Who doesn't love Santa Claus? Who doesn't love Santa hats? During Christmas gatherings, we always wear Santa hats to feel the Christmas spirit more. Also, these hats are worn when we are giving gifts and entertainment to the less fortunate during this holiday. So why not take your love for Santa hats to the next level? We mean, wear it on your nails. Wearing it on your head is a little mainstream so this one's definitely a must-do nail art!
Please find more products at  Enewmall.com and Enewwholesale.com
Share and Enjoy