What's the best way to celebrate Christmas through fashion? Well, aside from wearing red, it's wearing something shining, shimmering, and splendid.
In fashion, we all want to stand out. We all want to make a statement to let other remember us as a fashion icon or a fashion enthusiast. If you want to stand out, always remember to wear a piece that is both striking and bold. But, do not overdo your whole outfit. Sequined jackets are one of the few items that can make you stand out from the crowd and as well as make you look stylish.
With its buzz and hotness right now, we give you guidelines on how to wear the sequined jacket during in the right occasion.
On a casual day. Going casual usually entails preppy clothes, comfy outfits, or simple cut dresses. But put some twist and statement into it by wearing a black sequined jacket. Do not wear this item in bold color such a blue or red. You do not want to be considered as a magician when walking along the streets. Plus, wearing sequined jackets in bright colors makes you look like you are going to a costume party. So make it subtle. Make it simple. You can choose a jacket with little sequins or with sequins placed in just a particular area. Black is the best color. No more, no less.
For a dinner date. When going on dates, we usually spend a lot of time picking the right clothes and the right shoes. Well, we all want to look good. In choosing an outfit, wear something that's both sexy and conservative. Put the sexiness in a really subtle way. Also, learn to look stylish. A guy doesn't want to date someone who is unfashionable. That's a total turn off. Wear a body hugging dress and top it off with a gold sequined jacket. The sequined jacket serves as the conservative yet stylish garment in your body. Minimize the accessories. Your glittery jacket is enough to make a statement. There's no need to put on a lot of noisy accessories.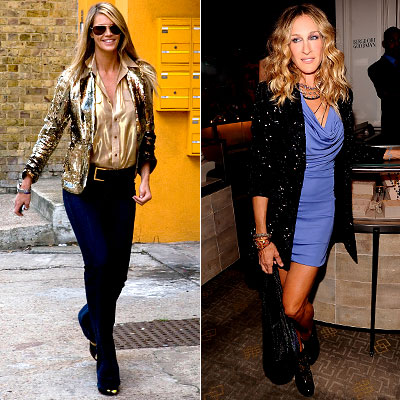 During a girls night out. Night outs are the best nights of our lives especially when we spend it with people who are so dear to us. And these get togethers and parties always make us spend a lot of time dressing up. We usually choose black dresses for occasions at night because black never fails. It is the safest and one of the most chic colors that we could go to. During a night out, wear a black bodycon mini dress and wear a gold sequined jacket over it. That will really make you the darling of the crowd and the dancing queen. Plus, you will really be the fashionista of the night.
Red carpets. Gold and silver sequined jackets are the best items to go to when you want to wear something for coverage. It is perfect for red carpet events. Expect yourself to be on the best dressed list because you really rocked the night with your outfit.
Please find more products at  Enewmall.com and Enewwholesale.com
Share and Enjoy